Lady Day Fayre
The top motif is made up of daffodil and crocus flowers as the Lady Day Fayre was held in March.
Top Border Motifs from left to right
First is a camera motif representing all the photographers snapping away. The sun represents the weather on the days of the performance. Residents of Axbridge watching the performance from their windows, overlooking the Square.
Top Border Motifs from left to right continued
A book with the scenes title. Sand bags representing the sand that covered the entire town square for the performance. Then a needle and thread representing the sewing of costumes
The Middle
Axbridge had four quarter day fayres. This scene depicts the Lady Day fayre held in March. It was a hiring fayre where the local farmers would also buy and sell stock. In this scene are musicians, maypole dancers, townsfolk young and old, farmers, livestock and vendors selling their wares. Notice a gentlewoman being carried about town in a Sedan chair, a military recruiting party and a magnificent dancing bear with his trainer.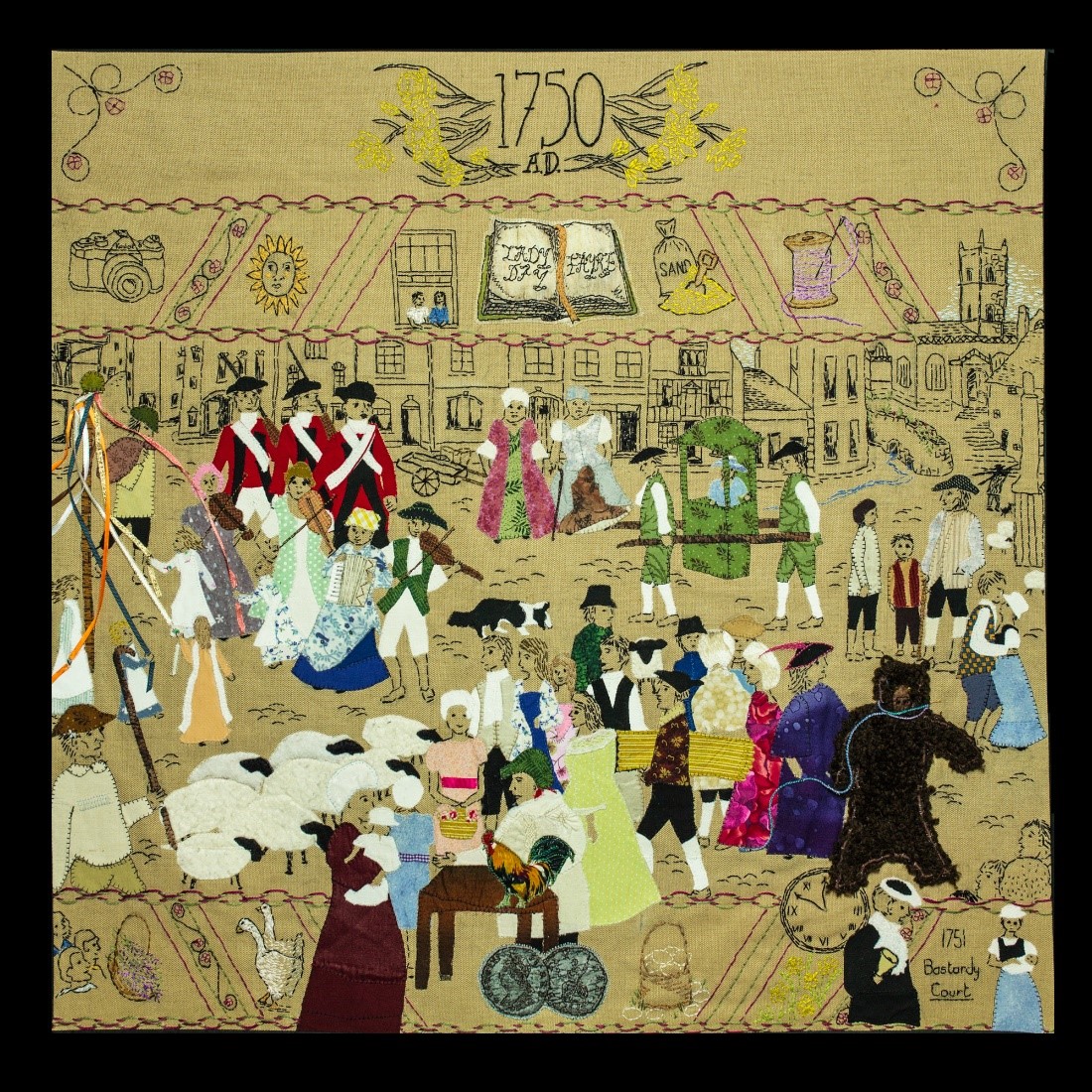 The Middle continued
Also on the right-hand side, an amorous young couple at the fayre, then in the bottom right hand corner the same young lady with her child at a Bastardy Court the following year. Next to them is the town crier and a clock indicating the time of the curfew bell that was rung as a signal for all to 'deaden or cover up' their fires and retire to bed.
Bottom Border Motifs from left to right
The Crowd. Basket of lavender for sale. Geese going to market.
Bottom border motifs continued
A King George II Crown. Basket of eggs for sale. The Crowd.