Hannah More
The top motif is of blackberries.
Top Border Motifs from left to right
Residents of Axbridge watching the performance from their windows, overlooking the Square. The sun represents the weather on the days of the performance. The safety pins used to hold bits of costumes together!
Top Border Motifs from left to right continued
A book with the scenes title. A measuring tape used to take the measurements of every performer. Hay bales that were put out in front of The Lamb Inn. The last motif is of a costume rail in the Town Hall. Where, during one of the performances, a member of the costume team fell into the huge dresses hung on it, leaving just her feet poking out.
The Middle
This scene shows the eccentric Reverand Gould, described as 'about 60 years of age, regularly intoxicated and frequently prevented from preaching by two black eyes honestly earned in fighting'. It is staged in the Town Square, the Rev.Gould is shown in the bottom left-hand corner squaring up to an opponent.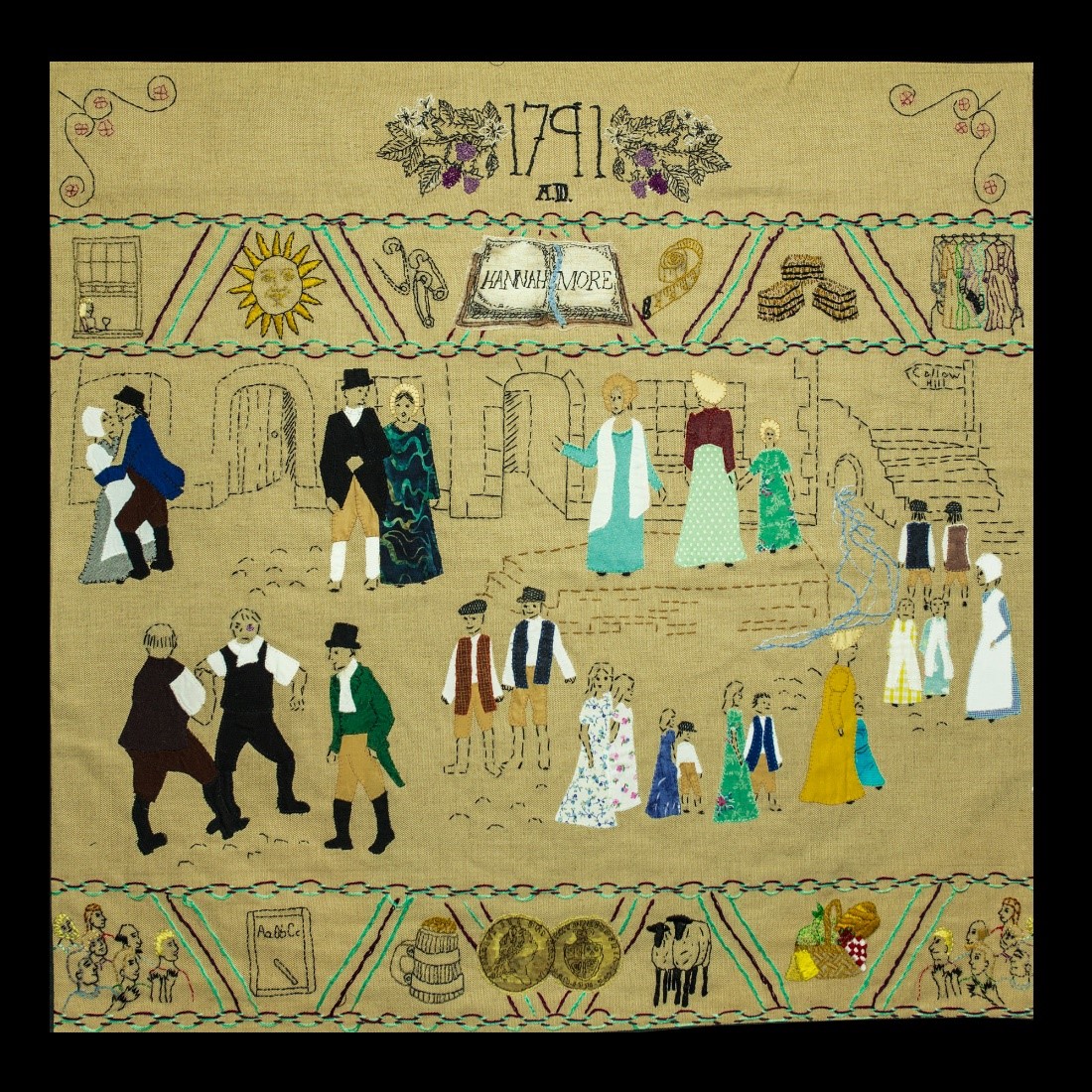 The Middle continued
Hannah More is the central figure with the raised arm and white shawl on the stage, in 1791 she started a Sunday School in the town and so clashed with the Rev. Gould. A large picnic was held on Callow Hill by Hannah More to celebrate the opening of the school, the towns children are shown making their way to the picnic, the signpost points the way to Callow Hill.
Bottom Border Motifs from left to right
The Crowd. A Slate and Chalk representing the teaching at the Sunday school. Ale tankard for the cask of Ale provided for the Callow Hill picnic.
Bottom border motifs continued
A King George III Guinea. The local sheep on the hills. A picnic basket. The Crowd.